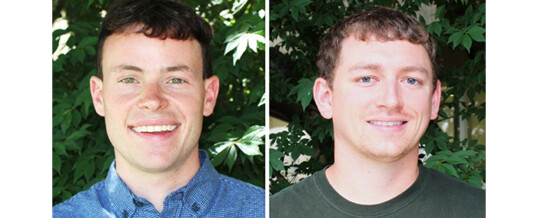 June 25, 2018
Two graduate students from the Department of Fish and Wildlife Conservation in Virginia Tech's College of Natural Resources and Environment have received fellowships that will pave the way for significant contributions to their fields of study as well as increased career opportunities.
Master's degree student Brian Case, of Rochester, New York, received a National Science Foundation (NSF) Graduate Research Fellowship, valued at more than $130,000. He said that he will now be able to earn his doctorate and added that the award is "a tremendously humbling recognition that will further set the foundation for a career in scientific research."
Case is interested in the ways that human activity and its effects on water quality impact wildlife populations. His current research focuses on how Eastern hellbenders, a species of aquatic giant salamanders, raise their offspring and how this process may be affected by issues like sedimentation, forest removal, and pollution. According to Case, monitoring parent-offspring interactions has been difficult in the past because hellbenders often nest under large rocks in fast-moving streams.
"Once the females lay their eggs in early fall, the males stay with their offspring for seven months. To study the males during this remarkable period of care, we've utilized artificial nest boxes installed underwater. The boxes have removable lids, so we're able to monitor and sample individuals while conserving the viability of their nests," Case explained. "The end goal is to ascertain the physiology of successful and unsuccessful hellbender dads and how these differences might vary across a gradient of environmental disturbance."
"It's exciting to work with such a talented team on questions that no one has asked or been able to answer before. There is practical and intrinsic value in understanding our natural world and sharing that knowledge with others. I'm excited that scientists in the future may build on what we're doing now," he added.
"Brian is a highly deserving recipient of this prestigious fellowship," said William Hopkins, professor of wildlife and director of Virginia Tech's Global Change Center, housed in the Fralin Life Science Institute. "He has a tremendous work ethic, and his proposal was simply outstanding. I am so pleased that NSF selected him for this honor and am excited to watch his development as a scientist in our program."
Doctoral student Corbin Hilling, of Morgantown, West Virginia, received a Virginia Sea Grant Graduate Research Fellowship of $80,000 for his work with nonnative blue catfish and their impact on Chesapeake Bay tributaries in Virginia. Hilling is the second student in the department to receive this award in recent years; fellow doctoral student Joseph Schmitt earned a Virginia Sea Grant fellowship in 2015.
Hilling's research explores population dynamics and looks at the ways that the population of blue catfish, a nonnative species that was introduced into Virginia in the mid-1970s, is changing over time. Using this information, he will then run simulations to explore how the species can be better managed to reduce its impacts on the bay tributaries.
"The blue catfish is a nonnative species, and there are conflicts in the region about how to deal with them," Hilling explained. "Some people don't like them because they aren't supposed to be there, but since they get fairly large, others are extremely interested in them from a recreational and commercial fishing standpoint. It's an interesting issue when you consider these different viewpoints."
"The fellowship is going to be a great opportunity," he added. "In addition to providing funding for research and conferences, Virginia Sea Grant also offers professional development workshops. I'm especially excited about the trainings on scientific communication. Sometimes scientists struggle to put their work into a context others can relate to, so the workshops will help me communicate my research with the people it impacts."
"Corbin is a terrific candidate for this fellowship," said Donald Orth, the Thomas H. Jones Professor of Fisheries and Wildlife Sciences. "He is highly motivated to cooperate with the numerous stakeholders in the coastal ecosystems and communities."
In addition to fisheries and wildlife sciences, the College of Natural Resources and Environment offers graduate programs in forestry, forest products, geography, geospatial and environmental analysis, and natural resources in both traditional, on-campus programs in Blacksburg as well as online and executive programs in the National Capital Region.
Share