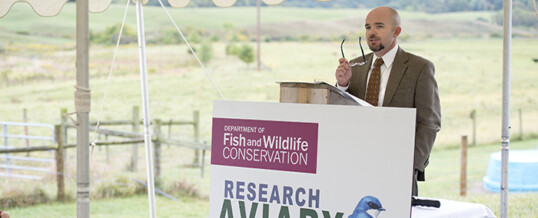 William Hopkins, professor of wildlife in the College of Natural Resources and Environment, received the 2018 Mitchell A. Byrd Award for outstanding scientific achievement in ornithology from the Virginia Society of Ornithology.
Hopkins, who directs the Global Change Center, housed in Virginia Tech's Fralin Life Science Institute, focuses much of his research on physiological ecology and wildlife ecotoxicology, particularly in the ways that wildlife are affected by human disturbances to the environment. Though he studies a variety of wildlife, much of Hopkins' research focuses on birds.
"I've always been fascinated with birds," Hopkins said. "As an undergraduate, I completed my first research internship working with the Georgia Department of Natural Resources. My job was to locate bald eagle nests throughout the state. It was an unbelievable summer, and I walked away excited about birds and conservation biology in general."
Hopkins' interest in birds ultimately prompted him to lead the charge within the College of Natural Resource and Environment to build the Research Aviary, which opened in 2015. One of few such university facilities in the region, it features 16 replicated aviary rooms and provides opportunities for undergraduate and graduate students to gain research experience.
"The aviary was important to me because we have so many talented people working on bird biology at Virginia Tech. Having a space where we could have flocks of birds under more controlled conditions and study things like disease dynamics and social group interactions has really opened a lot of new research opportunities," he said.
Hopkins' current research focuses on the relationships between bird parents and their offspring. Working with his students, he has recently published more than a dozen papers exploring incubation behaviors in birds and how this parental behavior affects the developing embryos and fledglings.
"This work is interesting from an ecological and evolutionary perspective, but it's also important when considering factors like human disturbance, pollution, or even severe weather events that might disrupt parental behavior," he explained. "It has implications both for understanding basic bird biology and understanding avian conservation."
Hopkins' other area of research involves pollutants and their effects on birds.
"A lot of the work focuses on how birds maternally transfer pollutants to eggs and then to babies, and also important effects of pollutants on bird physiology," he said. "Recently, we've been studying industrial spills and developing simple tools to assess bird health in the field. We've been able to apply those tools to birds affected by the Deepwater Horizon oil spill in the Gulf of Mexico. Our research will help us assess how birds respond to large-scale disasters and better assess the ecological damage caused by these events that might otherwise go undetected."
While much of Hopkins' research focuses on birds, he is also interested in amphibians and reptiles, particularly snapping turtles and the eastern hellbender salamander. Much of that research follows similar themes, as Hopkins works to understand the ways that parents interact with their offspring and what implications those interactions have for the babies as they develop.
Hopkins regularly employs undergraduate and graduate students in his lab. In 2008, he established a faculty mentor program, Facilitated Learning for Developing Graduate Experiences(FLeDGE), with support from the National Science Foundation. The program facilitates reciprocal learning by pairing a graduate student or postdoctoral mentor with an undergraduate researcher for an extended 18- to 24-month research endeavor.
"The experiences I had early in my career working with birds got me excited about research and have stuck with me. If I hadn't had someone give me that chance, I wouldn't be doing what I'm doing today, so I try to create research and experiential learning opportunities whenever I can," he said.
The aviary that Hopkins oversees has already created research experiences for more than 15 undergraduate students.
Hopkins is the fourth Virginia Tech faculty member to receive the Mitchell A. Byrd award since its establishment in 2011. He joins fellow Department of Fish and Wildlife Conservationfaculty members Professor James Fraserand Associate Professor Sarah Karpanty, and Associate Professor Dana Hawleyof the Department of Biological Sciencesin the College of Science.
"I was incredibly surprised and humbled when I found out about the award," Hopkins said. "I look at past recipients, and I hold all of them in such high esteem. I'm honored to have my name associated with them and with Dr. Byrd."
The Virginia Society of Ornithology's annual outstanding scientific achievement award was established in honor of Mitchell A. Byrd, a pioneer of wildlife conservation in Virginia. He earned his bachelor's, master's, and doctoral degrees in forestry and wildlife from Virginia Tech. Byrd joined the faculty at the College of William and Mary in 1956, where he later served as chairman of the biology department, leading it to national recognition, and founded the Center for Conservation Biology. He devoted much of his career to aiding the recovery of the threatened bald eagle and peregrine falcon in Virginia.
Story by Krista Timney, College of Natural Resources and Environment
Share