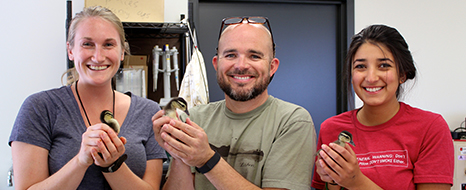 William Hopkins, professor of wildlife in the College of Natural Resources and Environment and director of the Global Change Center, has received the Graduate School's 2017 Faculty Outstanding Mentor Award.
Sponsored by the Graduate School, the new award, to be presented annually, recognizes excellence in mentoring graduate students. Recipients are nominated by graduate students, and one professor from each college receives an award.
Hopkins' research focuses on physiological ecology and wildlife ecotoxicology, addressing pressing questions in both basic and applied science. To date, he has published more than 165 peer-reviewed manuscripts and book chapters on subjects pertaining to environmental stressors, pollution, and the physiological ecology of amphibians, reptiles, birds, and bats. He currently is interested in the impacts that major global changes, such as climate change, invasive diseases, and deforestation, have on various physiological and behavioral processes, especially problems that involve the interplay of, and tradeoffs between, different physiological systems.
Hopkins' current and former students said he is committed to graduate advising, noting he views it as his highest priority. He also has worked to promote mentorship of graduate students and interdisciplinary training across the university. He encourages students to pursue their own research goals, and he makes sure stakeholders and others recognize students' work and accomplishments. Former students said he helped them develop mentorship skills ─ especially working with students from diverse socio-economic and cultural backgrounds ─ that they now use as professors and researchers themselves.
He earned his bachelor's degree from Mercer University, his master's degree from Auburn University, and his doctorate from the University of South Carolina.
Story by Cathy Grimes
Share