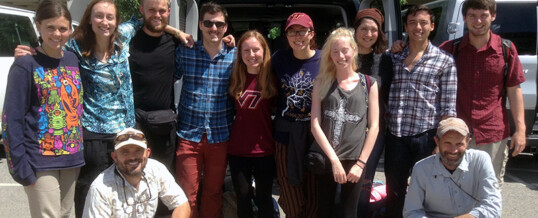 Ten Virginia Tech undergraduate students better hold onto their hats this summer as they plunge down Amazonian river systems into the heart of Ecuador.  At the helm of their canoes will be Global Change Center researchers Ignacio Moore and Bill Hopkins.
As part of a university-wide effort to promote study abroad, experiential learning, and undergraduate research, the students will witness the politics, history, culture, biology, and conservation issues in the South American country from May 16 to June 7 .
Ecuador is chock full of Andean peaks, rain and cloud forests, and striking wildlife such as jaguars, poison dart frogs, toucans, and pink river dolphins. Follow the students' adventures at the Global Change Center's website.
For the course, students had to work in groups to design their own research projects to be carried out during the trip.
Students will use camera traps to investigate the prevalence of large cats, including jaguars and pumas, in the rainforest and cloud forest sites. These cats are often hunted by poachers and ranchers and are rarely seen.  Camera traps will let researchers document their presence and behavior.
Working with Brook Kennedy, an associate professor of industrial design, the students will investigate the microscopic world using Macronauts, a macro lens that can be mounted on the camera of a smart phone camera.
In addition, the itinerary includes visits to the Sani Isla community run by the Quichua and the Shiripuno community of the Waorani. Both of these indigenous groups live in much the same way as they have done for hundreds of years.
The trip was organized by Moore as part of the Tropical Biology and Conservation in Ecuador course, cross listed through the departments of biological sciences in the College of Science and fisheries and wildlife conservation in the College of Natural Resources and the Environment.
"The students will visit one of the most biodiverse, but also threatened, areas on earth. These types of study abroad experiences give students the chance to see in the real world what they have read about it books," said Moore. "Our aim is not just to be tourists but to conduct research and learn about how conservation efforts rely on interactions between scientists, local peoples, multinational corporations, and governments."
Story by Lindsay Key, Fralin Life Science Institute
Share