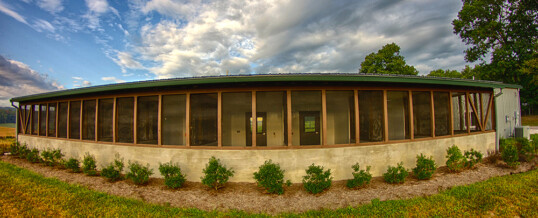 An international birder who has been trying to get some migratory bird legislation passed, Congressman Morgan Griffith on Wednesday visited Virginia Tech's new aviary on the Blacksburg campus to learn about its research.
Regarding his interest in avian legislation, Griffith (R-VA)  joined Congressman Mike Quigley (D-IL) in introducing the Federal Bird-Safe Buildings Act (H.R. 2280) on May 12, 2015. Applying strictly to federal government buildings, the legislation requires new buildings to include bird-safe building materials and design features to the maximum extent possible. It also requires the use of similar measures on existing federal buildings where practicable when the buildings are being substantially renovated.
Griffith's longtime interest in birds prompted his visit  to the Research Aviary, which Virginia Tech's College of Natural Resources and Environment officially opened last fall. It is one of few such university facilities in the region and is used by researchers across campus who need controlled space for studies.
"Virginia Tech has incredible strengths in avian biology, ecology, and conservation," said William Hopkins, professor of wildlife conservation who heads up the facility. "In the past, we have relied on fieldwork and lab experiments, but some critical questions require intermediate conditions, where captive birds are able to fly and behave in social groups. This facility, where we have some control but also seminatural conditions, bridges the gap between field and lab studies."
Hopkins' doctoral student Sydney Hope of Howell, New Jersey, showed Griffith the wood ducks that were hatched out of incubators and explained how she is examining the effects of varying temperatures on the early development of bird behaviors that are ultimately important to early survival.
She showed Griffith the exploratory arena she created to study the social behavior of wood ducks. Hope's research examines how bold and exploratory the ducks are.
Griffith said he tries to plan his vacations around worldwide bird watching. "When I go into a new area, I find it helpful to meet up with a local birder who can show me the hot spots," he told Hopkins. "With our region now marketing itself as an outdoor destination, I hope Virginia Tech can help get a system whereby visiting birders can easily connect with local bird guides to see what we have."
Hopkins explained that researchers are using the aviary to solve a spectrum of big problems. An affiliate of the Fralin Life Science Institute and director of the Global Change Center, Hopkins said, "Virginia Tech researchers are studying the role of birds in dispersal of seeds from invasive plants; transmission of disease; how weather, pollution, and climate change affect bird reproduction; and behavioral/social patterns."
Virginia Tech's state-of-the-art facility has 16 identical aviary rooms. "We can conduct experiments and replicate them in statistically robust designs," Hopkins said. "Each room can house a small flock of songbirds, such as finches, sparrows, and starlings, or family groups of species like wood ducks so we can observe adults raising their young, for instance."
Other features include partial roofing of each room with an outer, mesh-enclosed area so the birds can experience daylight cycles and natural temperature changes but remain sheltered from extreme weather and predators. The birds can be observed through one-way glass panels.
The aviary is on the western edge of campus in a research complex known as Center Woods, on university-owned agricultural field station land. Built with $700,000 in internal funding by the College of Natural Resources and Environment and the Department of Fish and Wildlife Conservation, the facility is used for collaborations with other Virginia Tech colleges and other universities to study many bird species.
---
Story by Lynn Davis
Share