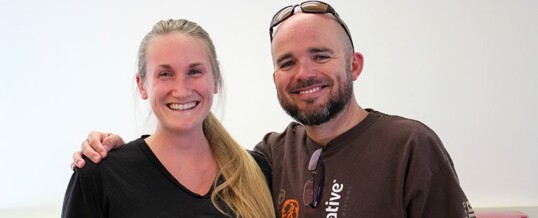 BLACKSBURG, Va., Oct. 5, 2015 – Once a baby wood duckling hatches, it follows its mother's repetitive whistle-like call to jump out of the nest and join its siblings in a family group.
But whether a duckling successfully follows depends on the nest environment, said fish and wildlife conservation graduate student Sydney Hope of Howell, New Jersey.
Using Virginia Tech's new Research Aviary, Hope investigates how the wood duck's nesting environment affects its ability to perform certain behaviors important for survival, like leaving the nest to follow its family.
In particular, Hope investigates how small changes in temperature of a wood duck's eggs during incubation impact the ducklings once they hatch and begin to grow. "Small differences in incubation temperature can have large effects on the physiology of wood ducks and other birds and reptiles, and as I'm discovering now, it can also affect their behavior," said Hope, whose research is funded by a prestigious National Science Foundation Graduate Research Fellowship. "If factors like climate change and urbanization alter the nesting environment, these changes in physiology and behavior can impact the survival of young animals."
In addition to behaviors like jumping out of nests, Hope measures behaviors related to the duckling's degree of sociality and how they interact with the world around them, including movement patterns, vocalizations, and responses to vocalizations.
"Wood ducklings are extremely social, so it is common for them to call out to others in hopes they will join them," Hope said.
While analyzing the video footage of these little creatures, Hope takes into account all of the behaviors, creating a snapshot of each animal's overall behavioral tendencies. This is a lot like how suites of behaviors can be considered indicative of personalities in people.
When ducklings move around more and explore unknown areas, their behavior can be described as proactive or bold. On the other hand, when ducklings remain somewhat still and are more likely to stay in a sheltered area, their behavior can be characterized as reactive or shy. These different behavioral tendencies can influence how ducklings interact in family groups, as well as their survival in the complicated natural world where they must find food and avoid predators.
In the future, Hope will correlate the duckling's behavior with its underlying physiology and neurobiology by comparing behavior and incubation temperature to blood levels of hormones, as well as to the receptors for these hormones in the brain. Making these correlations could ultimately reveal the biological mechanisms underlying these behavioral changes.
"I think it is very important to understand how animals behave. Their behavior shows us how animals interact with their environment, which can shed light on many different aspects of their biology," Hope said.
Hope's NSF fellowship and research was made possible by the new Research Aviary, which was funded by Virginia Tech's Department of Fish and Wildlife Conservation and the College of Natural Resources and Environment. USA Today recently ranked the college as the best in the nation to study natural resources and conservation.
"The college's new aviary made Sydney's research possible because it provided the infrastructure necessary to execute her proposed experiments," said Hope's graduate advisor Bill Hopkins, professor of fish and wildlife conservation in the same college, a Fralin Life Science Institute affiliate and director of the Global Change Center at Virginia Tech, and principal investigator of the new aviary.
"This is a wonderful example of how new infrastructure at Virginia Tech can create exciting new opportunities for faculty and students – something that is extremely important in today's highly competitive funding environment."
Story by Cassandra Hockman, Communications Coordinator at Fralin Life Science Institute
---
Watch "Investigating the behavior of baby wood ducks – Virginia Tech" on @Vimeo
---
Share