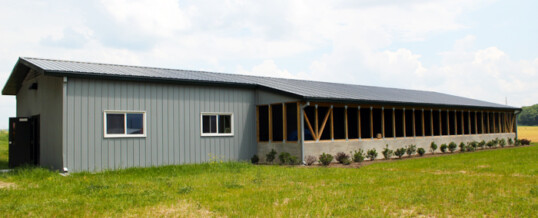 BLACKSBURG, Va., Sept. 21, 2015 – Today, Virginia Tech's College of Natural Resources and Environment officially opens its new Research Aviary, one of few such university facilities in the region.
"Virginia Tech has incredible strengths in avian biology, ecology, and conservation in the College of Natural Resources and Environment and in biological sciences in the College of Science," said William Hopkins, professor of fish and wildlife conservation and an expert in the physiological ecology of amphibians, reptiles, and birds.
"In the past, we have relied on field work and lab experiments, but some critical questions require intermediate conditions, where captive birds are able to fly and behave in social groups. That requires a facility where we have some control but also seminatural conditions," he added.
The aviary was funded by the College of Natural Resources and Environment and the Department of Fish and Wildlife Conservation but is being used for collaborations with other colleges and universities in order to study many bird species.
The facility is unique in that it has 16 replicated aviary rooms. "We can conduct experiments and replicate them in statistically robust designs," Hopkins said. "Each room can house a small flock of songbirds, such as finches, sparrows, and starlings, or can house family groups of species like wood ducks so we can observe pairs raising their young, for instance."
Other features include partial roofing of each room with an outer, mesh-enclosed area so the birds can experience daylight cycles and natural temperature changes but remain sheltered from extreme weather. The birds can be observed through one-way glass panels.
Hopkins recently finished his first experiment in the aviary, a study of how embryonic developmental conditions for wood ducks affect the hatchlings. Earlier research by his team has demonstrated that incubation temperature affects growth, the ability to regulate body temperature, the immune system, and the endocrine system. As little as 1 degree Celsius below normal, such as can happen if the mother leaves the nest for too long to forage, can have a detrimental effect.
"But the earlier work was confined to the lab, so we were limited to raising ducklings for three weeks," Hopkins said. "We don't know how long the effects last, such as whether they affect the chicks' ability to mature and reproduce. The aviary allows us to follow the hatchlings to maturity."
As part of this project, wildlife master's degree student Sydney Hope of Howell, New Jersey, the recent recipient of a prestigious National Science Foundation Graduate Research Fellowship, is studying the effect that changes in incubation temperature has on behaviors important to survival.
For example, she conducts a trial in which wood ducklings that are hatched in the aviary are placed individually in a nest box that is outfitted with cameras. She then plays recordings of mother wood ducks calling to encourage the ducklings to climb up and jump out of the nest. Hatchlings from eggs incubated at lower temperatures don't perform well at this task, something that could prove deadly for a duckling in the wild.
Read the full story at VT News.
Related Press:
WDBJ television interview with Dr. Bill Hopkins.
Share