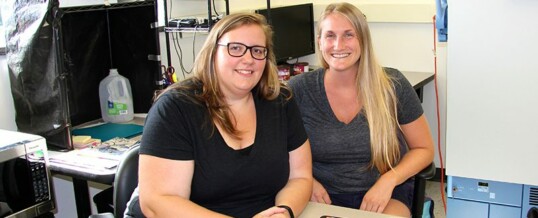 We are pleased to welcome Alicia Lowe, a Franklin County High School science teacher who is spending her summer learning more about scientific research. Alicia is participating in an NSF RET program at Virginia Tech (Research Experiences for Teachers) designed to enable schoolteachers to conduct real-world research and gain high-tech skills.
Funded by the National Science Foundation, this six-week summer program partners high school STEM teachers with a Virginia Tech host laboratory. Each teacher conducts research and develops new educational material over the summer.
Alicia is one of 9 NSF RET teachers on campus this summer and she has been paired with the Hopkins Lab. She is studying the effects of incubation temperature on wood ducks, and works alongside graduate student, Sydney Hope. Together they spend most of the week at the Hopkins Aviary, analyzing video data from wood duck behavioral experiments.
Alicia is specifically looking at calling, an important social behavior of wood ducklings, in two different trials. She will determine if this behavior differs between ducklings incubated at different temperatures, and if it varies by duckling age or between trials. She will present her research findings in a full-day poster session at the end of the session.
Alicia also spends one day a week engaged in activities with her cohort of RET teachers. The program provides the teachers with professional development activities that help them translate their research experience into inquiry-based classroom modules that they can use in their home schools. Alicia hopes to be able to utilize her new knowledge of quantifying animal behavior to better teach her students about the scientific method.
The goal of this NSF RET program is to provide an immersive experience that engages teachers in original research and enriches curricular activities in public school classrooms. Each teacher accepted by the program receives a stipend along with travel and meal allowances. Additional funds are available to support the classroom modules that teachers develop over the summer. For more information about the 2015 NSF RET at Virginia Tech, please visit the Socha Lab website.
Share