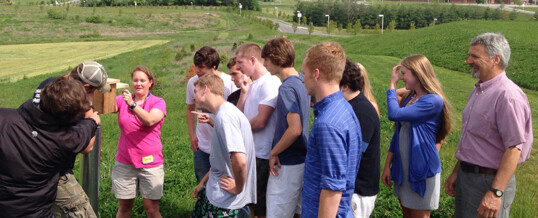 In the spring of 2014, Michelle Beck started an outreach program at Blacksburg  High School, where she taught students and teachers about the effects of global climate change on avian reproductive biology.
Michelle worked with BHS science teacher, Steve Hulburt, and his students, to establish a nest box breeding population of eastern bluebirds and tree swallows.  The high school monitored the boxes and were able to produce their own data set.  Students learned how to identify birds, how to check and monitor nest boxes, and had the opportunity to observe eggs and nestlings.  Using their data, the students examined the effects of ambient weather on reproductive success and nesting phenology.
"This program was an immense amount of fun for me and for the students as well, many of whom had never really even noticed birds before this project," said Michelle.  Currently, the project is in its second year and over 175 students in seven different classes and three teachers have been involved.  Future classes will continue to monitor these nest boxes to produce a long-term data set documenting the relationship between climate and avian reproduction.
To read more about this ongoing outreach project, visit VT News.
Below are a few pictures from the project. Thanks to David Lally for use of some of his photgraphs.
Share