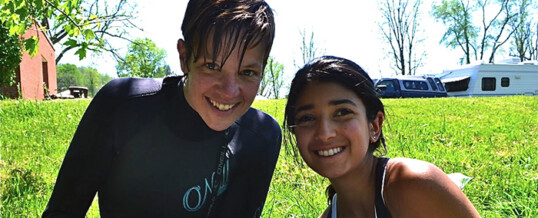 Strategizing species conservation: an undergraduate researcher uncovers the eastern hellbender and its habitat
"Go!" Valentina Alaasam yells while quickly maneuvering out of a shallow, cold mountain stream, with a snorkel bobbing on her head and goggles covering her eyes. She's carrying a large brown hellbender salamander, an understudied amphibian and imperiled Appalachian native. Fellow researchers are ready to meet her at the shoreline—she only has three minutes to collect a baseline blood sample.
Alaasam, a senior majoring in the biological sciences in the College of Science, started collecting these blood samples as a fellow in the Fralin Life Science Institute's summer undergraduate research program. She studies them to understand more about the male hellbender's unique nurturing behavior, which includes building a nest to protect the eggs. Blood samples will reveal levels of testosterone, glucocorticoids, and prolactin, hormones that have documented relationships with parental behavior in humans, birds, and fish but not so much in amphibians.
The biggest reason Alaasam studies hellbender nesting behavior is to understand why populations are declining. This decline is partly characterized by a lack of recruitment, meaning that not many offspring seem to survive into adulthood. Hellbenders can live up to thirty years, and tend to reproduce at age 7-8. Once the female lays eggs, the males compete for the opportunity to fertilize and guard these eggs through the larvae stage for up to 8 months.
But Alaasam and her team, including her mentor Cathy Jachowski, a Ph.D. student in fish and wildlife conservation in the College of Natural Resources and Environment, cannot safely access hellbender nests under natural boulders without disrupting them. For this reason, the team has built artificial nest sites or big cement boxes, which look like large rocks to mimic the hellbender's nesting environment. Each box has a tunnel for the nesting hellbender, and a lid for more secure access to him and his nest. Alaasam observes these nests in order to see whether or not the males exhibit guarding behavior, and compares blood samples of males that guard to males that don't.
Alaasam also studies the morphology—the outward appearance—of the hellbenders. This includes the condition of the hellbender's body and head. Wounds, for example, may indicate that the hellbender fought over territory, or skin lesions may reflect stressors within the hellbender's habitat, such as poor water quality.
Share