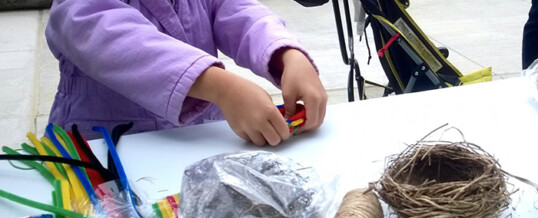 The Virginia Science Festival in Blacksburg: October 4, 2014
Last weekend, the Virginia Science Festival featured a host of interactive science activities, exhibits and programs across Virginia Tech's campus. Members of the Hopkins Lab participated in this outreach event by hosting two wildlife stations near the Moss Arts Center.
"One of our stations was called, "Life of Birds: Form and Function". We had kids build their own bird nest and talked to them about the importance of nests and why different birds would build different nests. We used pictures and physical examples of various nests to demonstrate the different materials used in nature. We pointed out that even though the nests may be formed differently, they function very well for where the bird lives.
We also had examples of feather types so that kids could see how the form of the feather impacted the function of it, such as the difference between wing versus tail feathers and flight feathers versus down feathers. We had a scavenger hunt activity about bird behaviors and a do-it-yourself guide to building a nest box. Kids had a great time building their nests, which they usually filled with cotton once they understood it would help insulate developing eggs and young birds!
Having the younger children build a nest was a great way to converse with them about birds and nests without it feeling like a "teacher/student" interaction. With adults and teens, we were able to discuss incubation in more detail. We noted that temperature is crucial not just for ensuring that the eggs hatch, but also for the effects it may have on the surviving offspring.
Sydney Hope ran the bird table and Molly Thompson showcased hatchling snapping turtles that are part of the captive rearing head-start program."
Share